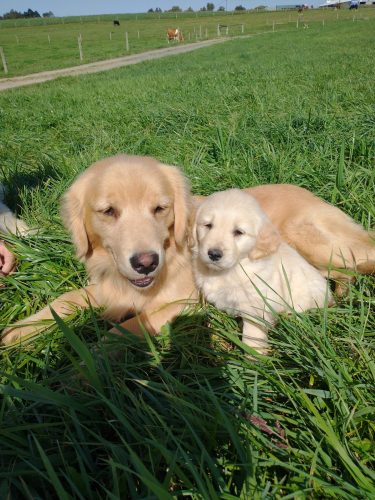 Welcome! Thanks for dropping by!
We are hobby breeders of purebred, AKC registered Golden Retrievers. We love this beautiful breed and we are committed to only breeding the best dogs we can find and will only breed parent dogs that have all their health clearances and come from outstanding bloodlines. 
We live in beautiful Indiana county, PA, not far from the Smicksburg Amish community. We are about a 70-80 minute drive from Pittsburgh, PA. 
At this current time, August 2023, we had a large litter of puppies, 11 total! It's been loads of fun raising and playing with them! They are now 8 weeks old and ready to find families of their own to love. We welcome you to contact us through this website, our Facebook page, or by phone call. 
Currently, we are keeping female dogs in our breeding program and we are working with other area breeders for stud service. At this time, we are very blessed and proud to have been working with Sheri McCormick of Infinate Goldens and her beautiful champion dog Caleb. Sheri has been so helpful to me in getting started with raising Goldens and has answered countless questions for me. Sheri shows her dogs in local shows as well as huge national shows and her dog, Caleb, is a national AKC champion. Caleb is also the father of our previous litters and we have two of his daughters here at home and we plan to make them part of our breeding program when they reach the correct age. 
We work hard to make sure bringing home a new puppy is as easy for you and your family as possible! Before the puppies go to their new homes, we register each puppy with AKC. You will receive a registration certificate within a few weeks after you pick your puppy up. We also microchip each puppy with AKC Reunite. All you have to do is mail in a simple form (provided for you) to update the contact information! Each puppy goes home with a vet health certificate, and their first vaccinations. (The puppy will need to visit your vet for the rest of the vaccine series.) There is no added cost for these bonuses, we do it all for you!
I invite you to browse our site! I hope you will enjoy the pictures as well as find helpful information. 
Welcome and thanks for stopping by! 
Cassandra Isenberg
Marion Center, PA  15759
(724) 422-2967
libertyslegacygoldens@gmail.com
You can also look for us on Facebook and Instagram!